1 HOUR

Escort Service

160 EUR
1 ½ HOUR

Escort Service

240 EUR
2 HOURS

Escort Service & Erotic Massage

320 EUR
4 HOURS
600 EUR
7 HOURS

Short overnight

940 EUR
10 HOURS

Overnight

1,300 EUR
12 HOURS

Long overnight

1,560 EUR
24 HOURS

Full day

2,800 EUR

1 HOUR

Escort Service

192 USD
1 ½ HOUR

Escort Service

287 USD
2 HOURS

Escort Service & Erotic Massage

383 USD
4 HOURS
719 USD
7 HOURS

Short overnight

1,126 USD
10 HOURS

Overnight

1,557 USD
12 HOURS

Long overnight

1,868 USD
24 HOURS

Full day

3,353 USD

1 HOUR

Escort Service

151 GBP
1 ½ HOUR

Escort Service

226 GBP
2 HOURS

Escort Service & Erotic Massage

302 GBP
4 HOURS
566 GBP
7 HOURS

Short overnight

886 GBP
10 HOURS

Overnight

1,226 GBP
12 HOURS

Long overnight

1,471 GBP
24 HOURS

Full day

2,640 GBP

1 HOUR

Escort Service

167 CHF
1 ½ HOUR

Escort Service

250 CHF
2 HOURS

Escort Service & Erotic Massage

333 CHF
4 HOURS
625 CHF
7 HOURS

Short overnight

979 CHF
10 HOURS

Overnight

1,355 CHF
12 HOURS

Long overnight

1,625 CHF
24 HOURS

Full day

2,917 CHF
Carla
THREESOME ESCORT CARLA
Hi and thank you for your interest. My name is Carla, I am 24 years old, a native of the Netherlands and I will be your naughty sexy escort today. I have a hot, toned body, a B cup breasts size, 168 cm tall, and 50 kg. I have a great combination of spirit and mind, body and intelligence; I am a beautiful brunette with deep brown eyes and nice curves, my confection size is 34. My cute, lovely smile makes people go crazy when they are around me.
I promise you that every minute spent with me will be the greatest minute of your entire life. I know what people want most and I am more than pleased to offer that to them. From sensual, sexy massage to a great session of BDSM practice or threesome, I will not leave your room without letting you with a big smile on your face. You will not be disappointed by our special adventure.
My intelligent mind is what helps me keep our conversations alive. My caring, loving, passionate attitude is what helps me keep you up all night. I will offer you an interesting BDSM session. Don't worry, I am talking about light BDSM such as sexy role-playing, sensual erotic massage, light blindfolding, and bondage. Everything for your own good and safety.
Don't worry about any language barriers between us, I can easily speak English and Dutch, and don't forget that I am available in Amsterdam, Den Haag, and Rotterdam. What are you waiting for? Pick up your phone and call me!
Age

24

Gender

Female

Sexual Orientation

Bisexual

Drinking

Yes

Smoking

Yes

Languages

English

Available for

Men, Couples
Height

168 cm / 5'6''

Weight

50 kg / 110 lbs

Eye Color

Brown

Hair Color

Brown

Hair Lenght

Long

Breast Type

Natural

Cup Size

B

Dress Size

S

Shoe Size

37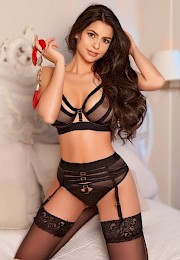 Stephany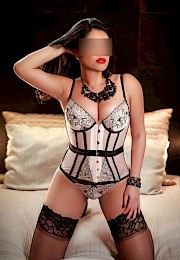 Gabrielle